Well, after sitting on the project for nearly a year, Shawn's 2nd 510 project is finally on the move.
All my brother wanted was a 510, so it started with Lou's blue car a year and half ago:
At the sunny Nanaimo ferry terminal on the way home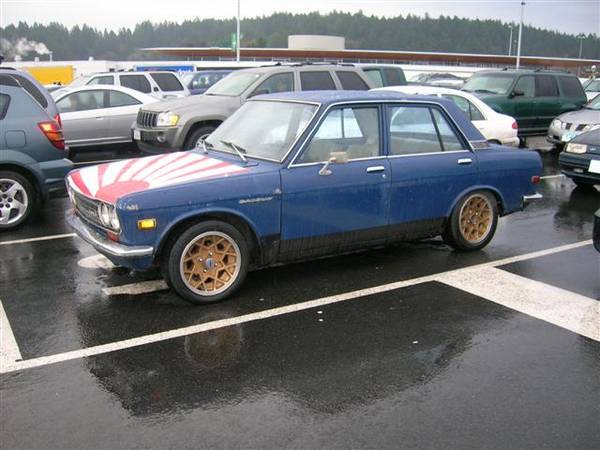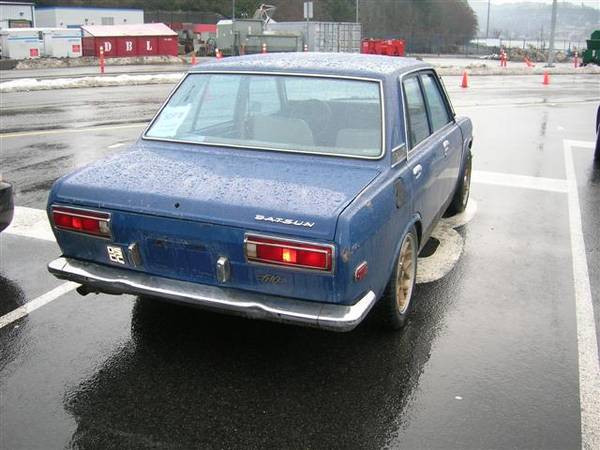 So with it's many quirks, and a complete hydraulic overhaul, she was good to go, for a while.
Shawn loves it, but he wanted something with a little less rust so that his wife would get it with him. The motor let go about 6 months later, making some funny noises and it was using more oil than gas – tail gating wasn't an issue – no one got close, but he sure wasn't doing the environment any good! I followed him home in rush hour traffic once – I couldn't see the car, but the smoke trail was clearly visible! We did a motor swap late last summer with an L16 I parted out of the orange 4dr – even the stock carb worked great after we blew the cob webs out – automatic choke and fast idle even work flawless after a little tinkering. Throgh all this, Shawn still wanted a510, so I figure after a year it must be more than a passing phase, but I didn't want to fix this one, I had no time!
My immediate family comes first, I didn't have time to do a full resto tackling rust on the quarters and dog legs on this car, and my brother has no skills in this department (and wasn;t about to start learning – he doesn't even have a garage. Then Jeff came to the rescue and found us this one…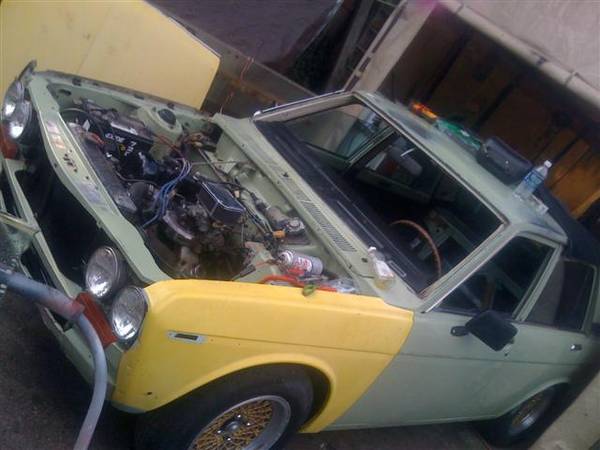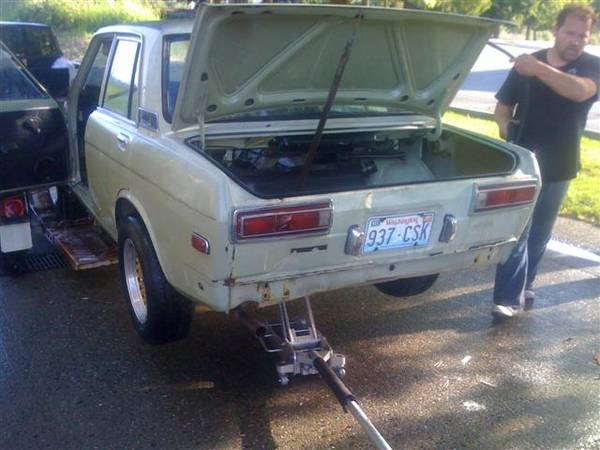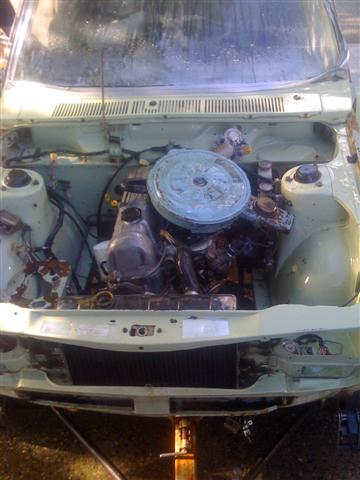 Rough beginins, but a way better base that we had….
My dad and I drove down to Franks place last fall to collect it in Seattle.
In true Wolfman style, the springs were cut to the bump stops, and it had a Webber 32/36 on an L18 with a glass pack blue bottle for a muffler. Actually with 10 year old gas, and a pea shooter with a glass pack – it sounded kind a different…It was still a lazy boy shift, but that was the least of my worries and very easy to solve. Jeff even drove it up and down the street for us… with no driver's seat and absolutely no brake pedal! Onto the trailer it went, and back across the border and into my shop to rest and get faster as we waited.
Over the winter I started collecting bits. Matt supplied the used modified MRII front struts and some 2 1/2"X8X225# springs for a fire sale price. I also horse traded a set of camber brackets installed on a rear X member for a set of 13X6 Panasports (I always wanted a set of Panasports and my bloody brother get them – damn!) I pulled a dash pad out of a parts car, and I had a set of black leather E30 Recaros that were serviceable, so in they went. And here we are now.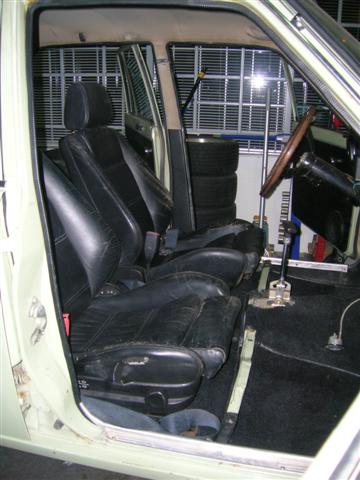 And then it sat until a few weeks ago. Back on dads trailer it went and out to his shop for the paint job!
Shawn got busy with the screw drivers, out came a pile of zip lock bags and a dozen rubber maid tubs, and the car came apart in short order. Shawn and I hauled out the drive train (he already pulled the rad and drained the fluids – he's catching on pretty good for an old guy at 40!) Truly this is his first car, as a toy. I should add that my brother has been the artsy type his whole life, I was the mechanical guy. Two totally different realms, so to be wrenching beside my brother, well it feels good!
*EDIT INSERT* …so this is how the car left my storage place after being stored for the past nine months:
So the driveway is moderately steep, then the ramps were short and the car was low – it all added up to a real pain in the back! Here's Shawn taking a run at the come along: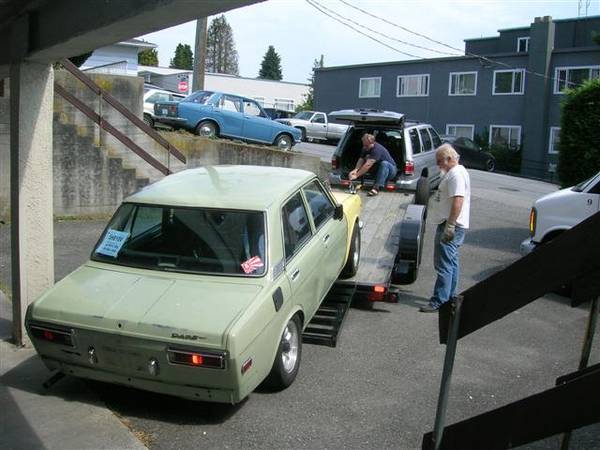 …the car safely tied down to the trailer…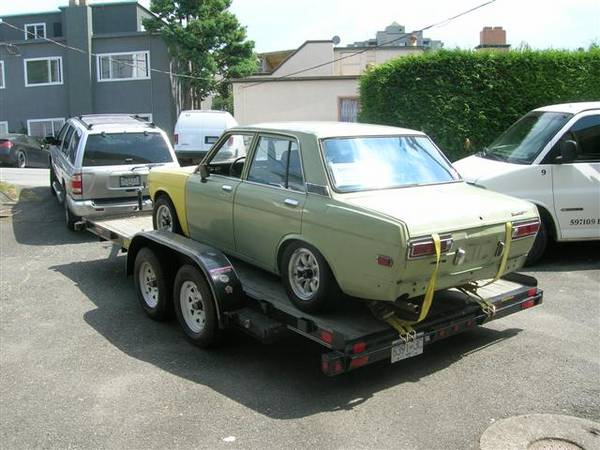 …on it's way through New Westminster enroute to dear ole dad's place –Pithfinder chugging away quite happily…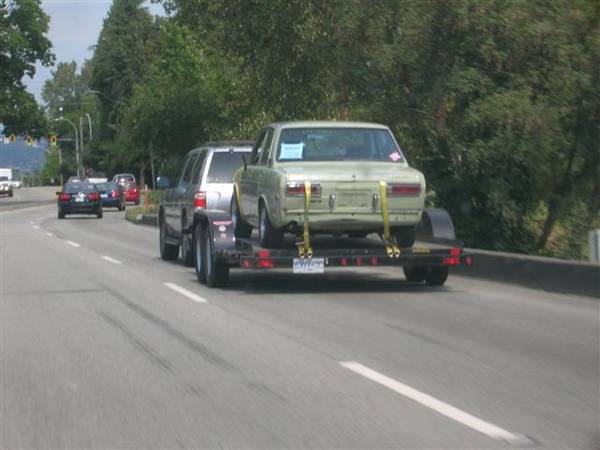 …and here she parked, puking it's guts knowing she was about to be dismembered… temporarily… for it's paint job!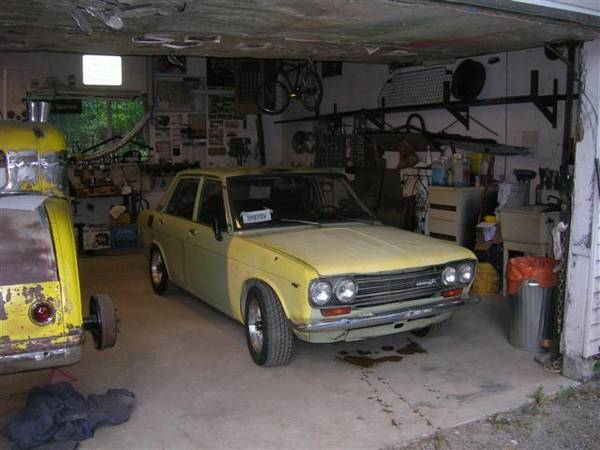 After the following weekend we were to this stage: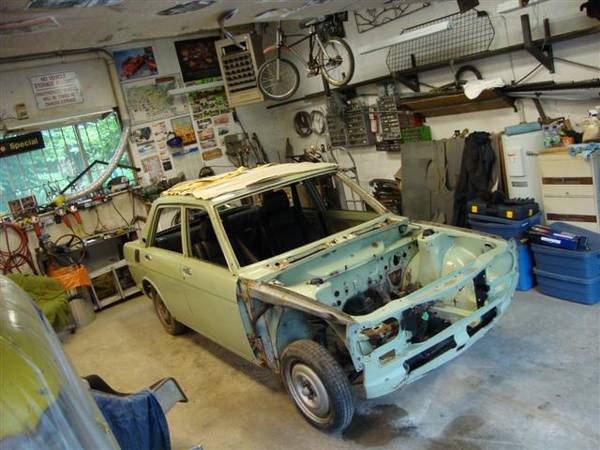 There are a pile of dents to work out, but the rust is nearly nonexistent on everything but the non-original front panels (which will need the most work).
A battery has obviously boiled or exploded at some point causing this- I'll sand blast this area: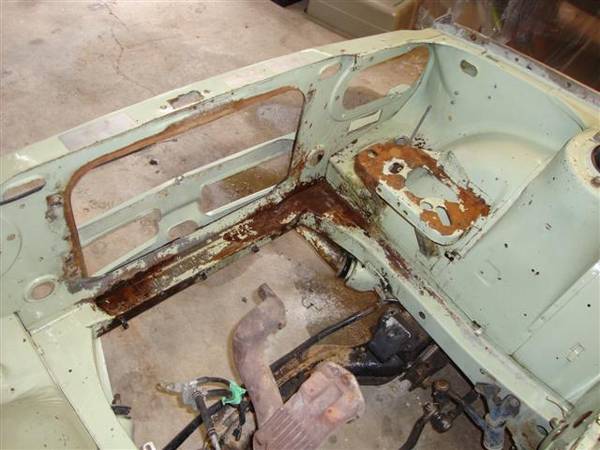 But the rest is really solid – I'm quite happy: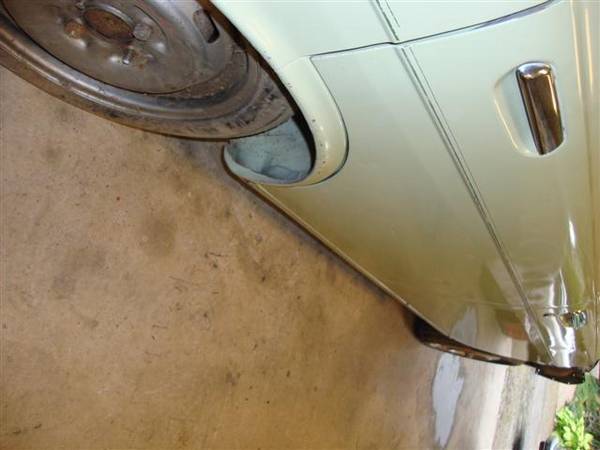 I got the huge dent out of this door Jeff – no bad eh!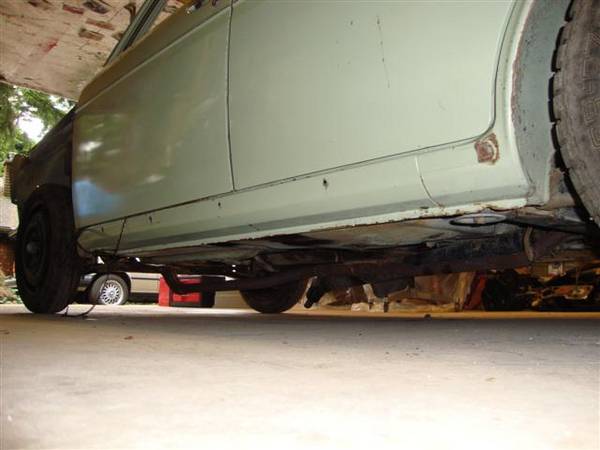 Solid rockers and floor pan – wahoo!
Even the area under the front fenders is great. I'll need to take out a couple broken off bolts – no biggie.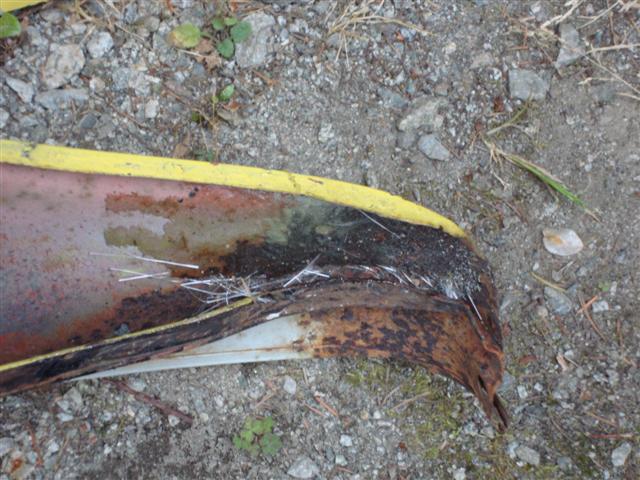 But the fenders are rusty; they'll need some blasting and metal work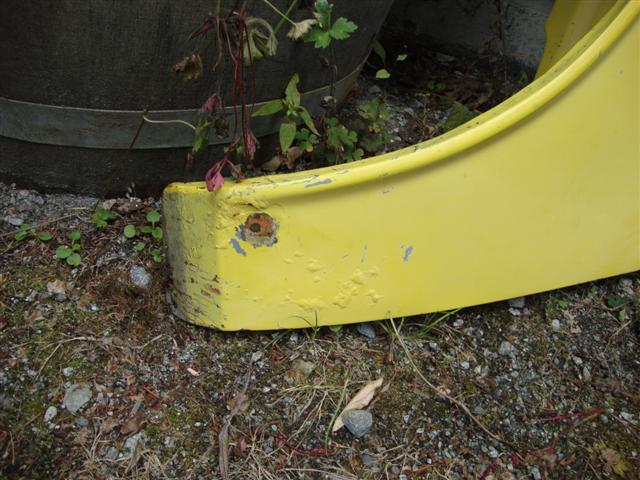 The plan is to paint the car and under the hood. A full rubber seal overhaul netted a $900 bill at Datsport, but hey the car will be covered in that department including damn near every seal, gasket, door, hood, truck, and gas door rubber stop, door seals, squeegees on both sides of the glass, glass channel felt, even the tail light gaskets… I know I missed stuff but I think I got about every piece of exterior rubber bit in one stop.
Thanks Baz for having the foresight to make this stuff! You are a life saver.
The suspension won't be crazy. My brother will be perfectly happy with an L16/5spd with a low stance. He'll never drive the car hard, so there's no point in making it crazy. It'll be a nice summer daily car – that's the plan.
It'll stay the stock #546 grey/green, but Shawn really liked the rising sun on his current hood. He has some ideas of doing a similar scheme in a slightly off green down the sides of the car- I'll leave the custom work to him; I'll just get it painted one colour for now.
I'll update as we go, when I have time. But I do plan to have this done soon.
Byron