Well its finally time to start my thread on my second Datsun build. Ive been browsing this forum for quite some time but i never really committed to posting much to it.
I built my last 71' 2 door with an s14 SR, but that car never got every thing that i dreamed of. So its finally time to start my dream car.
My plan is to do an almost full body restoration minus the usual sand blasting process. This car is gonna be a Sunday driver, so its gonna be as close to track ready as i can get it, with all the luxuries of a daily driver. Its gonna be a typical S13 SR swap, for the only reason of parts availability and power upgrades that are available. I learned a lot from my first swap and will be doing things differently based off that information I collected from that build.
First Part of the build:
SR swap with my own custom engine and transmission Cross member.
Techno Toy Tunning DIY front coil over kit with T3 camber plates and 250lb front and 300lb rear spring spring set up.
Tokico illuminas 5-way adjustable front inserts and KYB AGX adjustable in the rear.
Front Struts are 280zx assemblies.
Modified Rear sub frame with 4inch Tube to allow 3 inch exhaust.
Mandrel bent 3 inch exhaust Turbo back with V-bands.
Fuel Cell
New Fuel lines.
All Auto meter gauges.
Corbeau GTSII seats.
Redesigned seat mounting points.
Big Front mount intercooler fitted behind grill.
Respray under coating.
Mandrel bent intercooler pipes.
4 point roll cage with harness bar.
15 X 7.5 +7 and -5 SSR Reverse Mesh wheels with the flat lip.
New Brake lines.
240z Brake master and new clutch master.
2002-2004 WRX Center console.
300zx brakes with parking brake. (questionable)
R200 Shimmed with J30 Vlsd. (Sorting parts out for this one)
Tucked and hidden wiring with modern style relays and blade type fuses.
Im sure im forgetting lots of other things but ill add them as I update the thread.
Now with some history on this car...
Its a 1971 2 Door. what I believe is to have been a California car all its life. I purchased this vehicle about 2 years ago from an older gentlemen that had bought it as father-son project with intentions of an SR swap. Those entire 2 years i just let the car sit and collect dust just because I had no time to work on it. I got a great deal for what i got and the body shape is great. Its a great car to start with.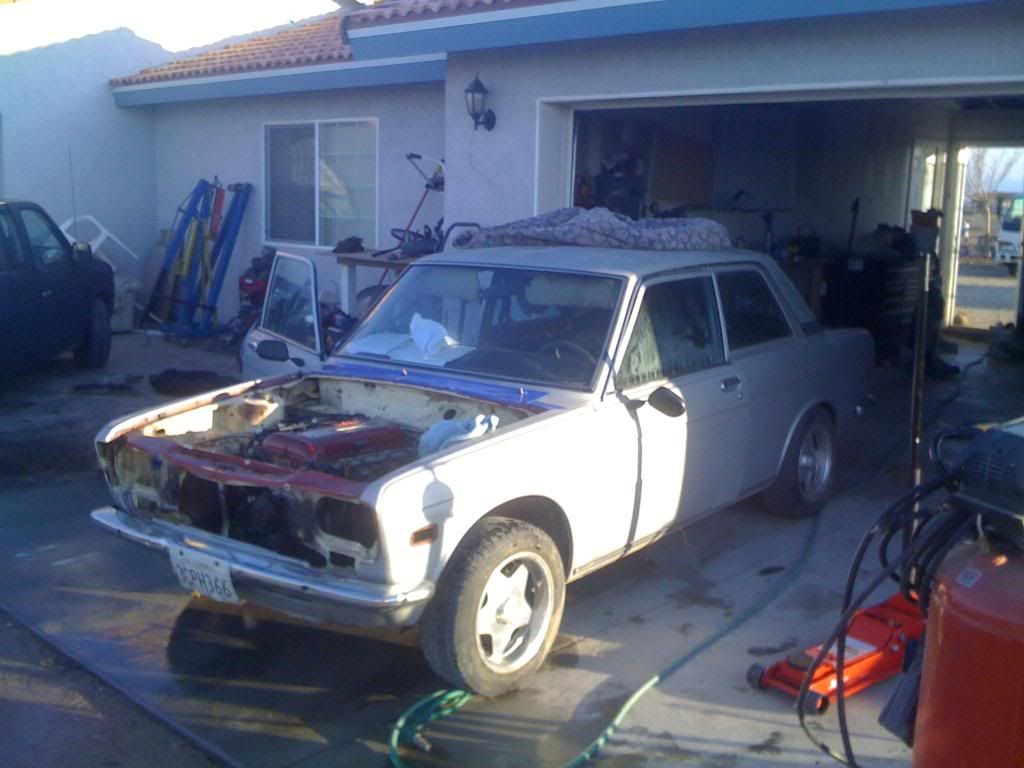 http://i156.photobucket.com/albums/t18/ ... G_0023.jpg
I only work on this car during the weekends and a little bit during the week, DAMN WORK! I will be putting as much time as I can. Ill be taking as many pictures as possible and providing you picture junkies with as many updates as i can post.
Ill post some pictures of the stuff i already have and working on a little bit later. Im actually posting this from the garage
Stay Tuned....