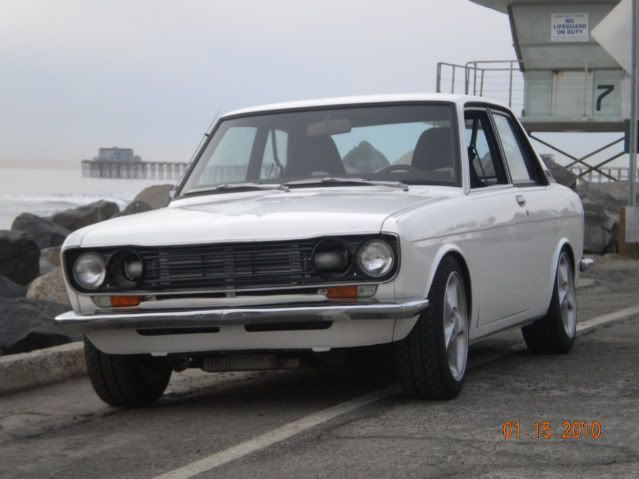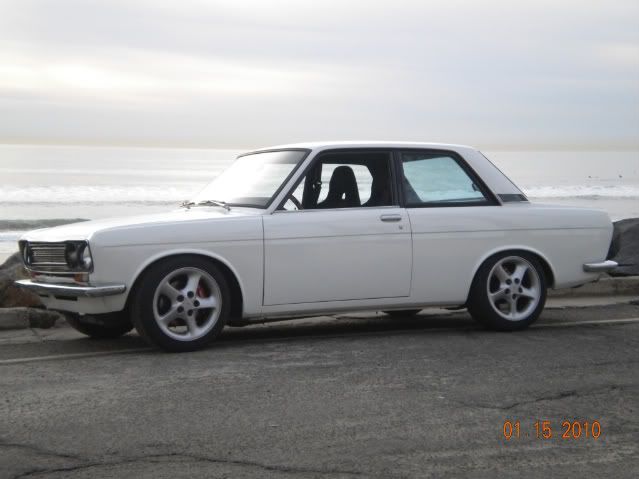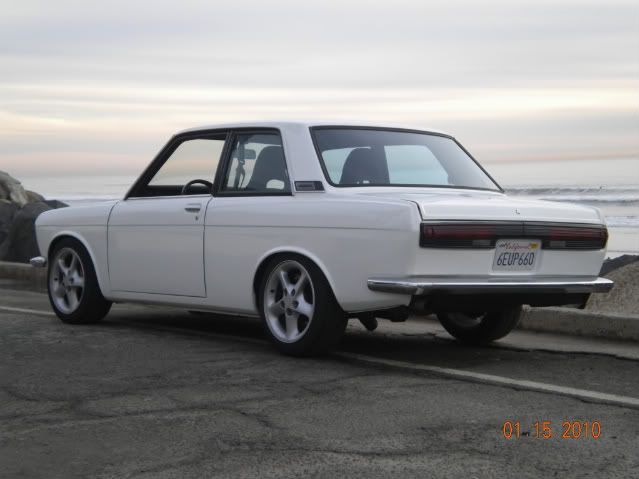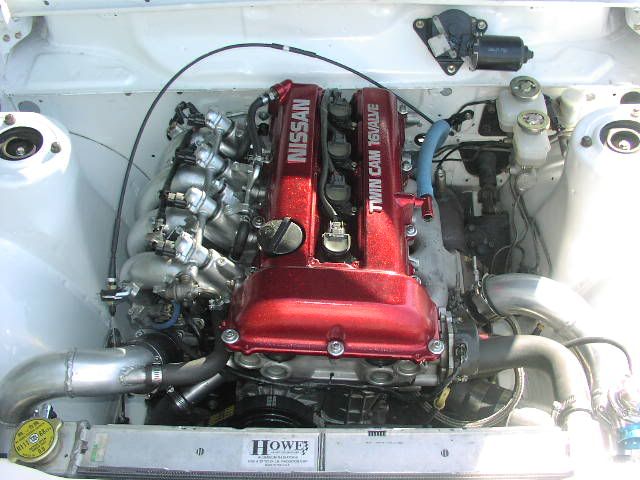 Hey Datsun heads, The time has come and it is finished. I have a 1972 2 door SR20DET powered Datsun 510 for sale. A very good example of a nice 510, 3 year build. Fresh paint, inside and out. Alot of new parts, which include:
BODY as follows: New paint, Nissan bright white, shaved side markers, rocker trim, and gas door lock (remote opener from driver seats), new rubber all the way around (most NOS rubber) new Blubird taillight lens, with reconditioned frames, completely polished chrome trim around grill, Rat rod black grill and headlight bezels, New euro blinkers, Rechromed bumpers front and back, reconditioned pillar vents. SUSPENSION: 5 lug conversion, New tires on 16-7 inch rims, new coil overs (progressive coilovers with 2 spring per side), new bump steer spacers, front cross member reversed and powder coated, new front .KYB inserts, new huge 4 piston calipers and pads, new bushings, new steering parts, rear cross member slotted and exhaust hole enlarged 3.5 inches (blasted and painted Hot rod blk), 2 piston rear calipers, (4 wheel disc breaks) D50 springs cut down for rear.
INTERIOR: New headliner and visers, New door panels, recovered seats, front and rear, New seatbelts, New carpet kit, NOS dash pad, auto meter gauges, and G/T grant wood steering wheel. New 350z dash vents. Heater work great, new defroster ducs.
DRIVE TRAIN: SR20DET, S13, 5 speed. New oil pump, new water pump, custom exhaust manifold, turbo rebuilt, (ball bearing), New 3 inch exhaust and muffler, New custom down pipe, , subi diff, New inner cooler and new radiator, Wiring completely reworked and hidden. There is alot i might be forgetting.
Hi Datsun folks i wanted to add more info to help complete more details on the build of this Datsun 510. Started out as a driver purchased some time ago. This car was completely gutted, most areas of heavier metal were sandblasted completely to bare metal. These areas are the complete engine bay and inner fender wells, radiator support, complete trunk pan and spare tire well. Once blasted all areas were repainted with high end paint products. Here are some pics of the build in process. This isn't a $10,000 paint job but in my option is a very nice paint job. All holes were migged, the taillight panel was cut and flanged, to hold the Bluebird taillights. rusted areas were removed. those areas cleaned and under coated. Downer car sections were welded in place and under coated front and back. Inside and out. Battery tray has been removed and smooth out. I have over a 100+ pics of the build. There are a couple areas i would of liked to see come out better, but i'm picky, and have painted a lot of high end 510s.
While the engine was installed the drivers fender got a nick.
Hinges were rebuilt before cleaning and repainting. The rear quarter windows were completely dismantled, blasted, primed, sealed, painted, and reassembled. Door and quarter window rubber is the only after market rubber on the car. All other rubber is NOS including window felt, front and back window rubbers, trunk, door window squeegees, and hood bumpers. The interior panels were reupholstered by other people. A new black velour headliner, and recover visors were installed. The front seats were blue and black, so i had the blue reupholstered in black swade. Door panels, rear seat and back package tray have all been redone in grey tweed. The front door panels are new made from all new materials. Carpet kit is New but does not fit as well as i would like it to, Dash pad is NOS. The dash sports a custom gauge cluster, with all auto meter gauges. Has the 350z vents and a wood Grant G/T steering wheel. The interior needs kick panels to be completely finished. All the fuel inlets and lines are new, including the metal lines and filler tube for refueling. The gas tank has an insump fuel pump. The wiring is hidden in the frame rails and under the dash, makes for a very clean engine bay. Alot of hours went into this. I had fellow 510 owners Daniel and Dan at DGR do the install of the SR20DET, very clean install.
Please call me only. 530-575-0911 James Johnson Asking $20000 or best offer. This car has less then 5000 miles on it after build. Car is located in Penn Valley, CA 95946